It's here....season of mist and yellow fruitfulness....Happy Fall!!
Tomorrow marks the autumnal equinox, meaning the day will be exactly the same length as the night! From here on out it will start to get darker earlier each day...but it's not all bad news! The trees will soon turn their most vibrant colors and the air will become cool & crisp!
As we enter this new season, I hope you take some time amidst your busy schedules to enjoy the beautiful changing of scenery....and to read through the weekly updates!
Special Announcement - #sorryIwantFOREO
In case you haven't heard (#shameonyou), the Croatian office worked overnight to pull-off this AMAZING campaign in response to an Insta-story Justin Bieber posted which slammed one of our major competitors, Clarisonic.
Here is the video in case you haven't seen it, make sure you share it with everybody you know
https://www.youtube.com/watch?v=uI4ubFRuKKo&feature=youtu.be
Great job Croatian office on pulling this off in such a short time!



FOREO in the News
• NORDICS (Sara Songbird): SPA-DAG PÅ STUREBADET | vlogg
• NORDICS (Natalia Oona for ELLE): Perfect Spa Day & Dinner in Stockholm
• NORDICS (PLAZA Kvinna): featured ESPADA
• POLAND (Wizaz): ZGARNIJ PUDŁO KOSMETYKÓW JAK RECENZENTKA SIERPNIA
• POLAND (Ala Anigacz): BEAUTY CORNER - KOSMETYKI AA, FOREO LUNA, MICHEL MERCIER
• POLAND (Hania): Skóra sucha i wrażliwa - pielęgnacja
• FRANCE (Ici Paris): mentioned ESPADA
• ROMANIA (Alina Ceusan): Skincare routine with LUNA play plus
• ROMANIA (CSID): New FOREO LUNA play plus
• RUSSIA (Wonderzine): Wonder Wishlist
• ITALY (Grazia.it): Skin Beauty Device: i migliori dispositivi high tech per la pelle
• CROATIA (centar zdravlja): Moje iskustvo čišćenja zubi s električnom četkicom Foreo ISSA play
• CROATIA: Billboard campaign in Croatia for the ISSA play launch in DM
• DACH (InStyle): Das sind 5 besten Zahnbursten fur strahlend weise Zahne
• DACH (Cosmopolitan): LUNA play (in attachment)
• UK (Business Insider): This popular facial cleansing brush gave me super smooth skin and made shaving really easy
• UK (Marie Claire): Go, Go Gadget article featuring ESPADA
• MEA (Emirates Woman): Best Face Forward
• SPAIN (Style and Paper): Spa en Casa + Rutina de limpieza con Foreo Luna 2 | styleandpaper
• SPAIN (My Crazy Make Up): Rutina de Mañana | Cuidado de la Piel
• UK (The Independent): 10 best electric toothbrushes
• US Bridal Guide: LUNA 2
• US Well + Good: LUNA 2 *Clarisonic was mentioned in this article along with us.
• US Glamour: ESPADA
Social Media Quick Highlights
• NORDICS: Competition with Nicole Falciani
• ROMANIA: Alina Ceusan loves LUNA play plus
• SPAIN: @mycrazymakeup promoted LUNA mini in her Morning Beauty Routine
• RUSSIA: Popular fashion blogger @voguediary featured LUNA go in her Instagram post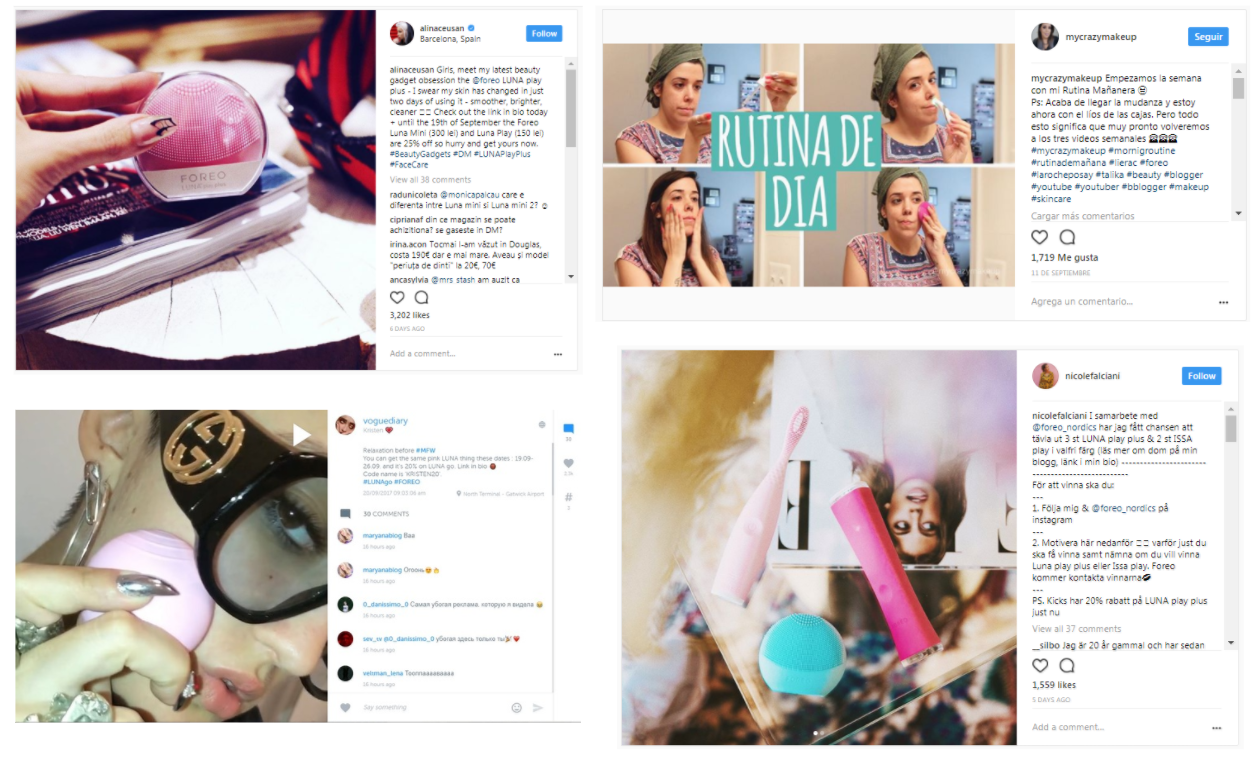 What's in-store for the future: new retail placements
China saw some exciting opening this past week with Mothercare, Les Enphants picking up ISSA mikro among other designs, while CitySuper took the extended FOREO range!